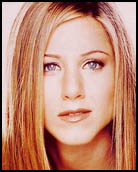 Jennifer Aniston
Birthday: 11 February 1969
Below is a complete filmography (list of movies she's appeared in) for Jennifer Aniston. If you have any corrections or additions, please email us at corrections@CelebMart.com. We'd also be interested in any trivia or other information you have.
Sexy pictures and videos of her can be found at FemaleCelebrities.com
Biography
Born in Sherman Oaks, California, 'Jennifer Aniston' (qv) spent a year of her childhood living in Greece with her family. Her family then relocated to New York City where her parents divorced when she was 9. Jennifer was raised by her mother and her father landed a role, as Victor Kiriakis, on the daytime soap _"Days of Our Lives" (1965)_ (qv). Jennifer had her first taste of acting at age 11 when she joined the Rudolf Steiner School's drama club. It was also at the Rudolf Steiner School that she developed her passion for art. She began her professional training as a drama student at New York's High School of the Performing Arts. In 1987, after graduation, she appeared in such Off-Broadway productions as "For Dear Life" and "Dancing on Checker's Grave". In 1989 she landed her first television role, as a series regular on _"Molloy" (1990)_ (qv). She would also appear in _"Edge, The" (1992)_ (qv), _"Ferris Bueller" (1990)_ (qv), and have a recurring part on _"Herman's Head" (1991)_ (qv). By 1993, she was floundering. Then, in 1994, a pilot called "Friends Like These" came along. Originally asked to audition for the role of Monica, Aniston refused and auditioned for the role of Rachel Green, the suburban princess turned coffee peddler. With the success of the series _"Friends" (1994)_ (qv), Jennifer has become famous and sought-after as she turns her fame into movie roles during the series hiatus.

Biography courtesy of the Internet Movie Database (www.imdb.com).